Are you a passionate bride with a flair for the dramatic? Want to turn heads by being a little more va-va-voom than prim and proper? Many brides are choosing red wedding dresses that show off their personalities, their curves and their general badassery.
Here are 13 brides that rocked their red wedding dresses:
1. Queen of Hearts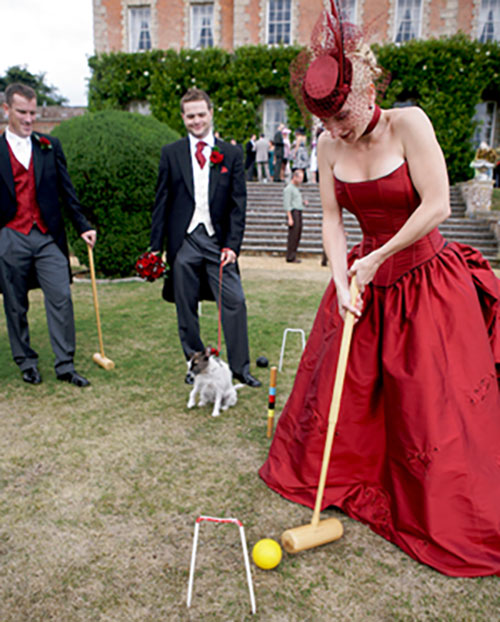 Image Source: offbeatbride.com
This bride's red dress took her from the altar to the croquet field with flair. Rumor has it that she's honeymooning in Wonderland.
2. Boho Brights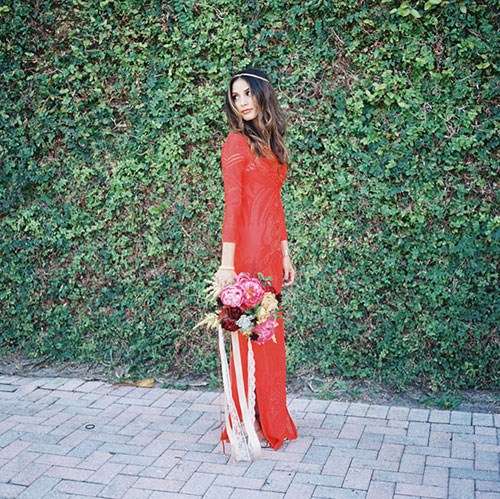 Image Source: greenweddingshoes.com
This bride looks like she could fit in at the altar and on the red carpet… or as the red carpet for that matter.
3. Renegade Ruby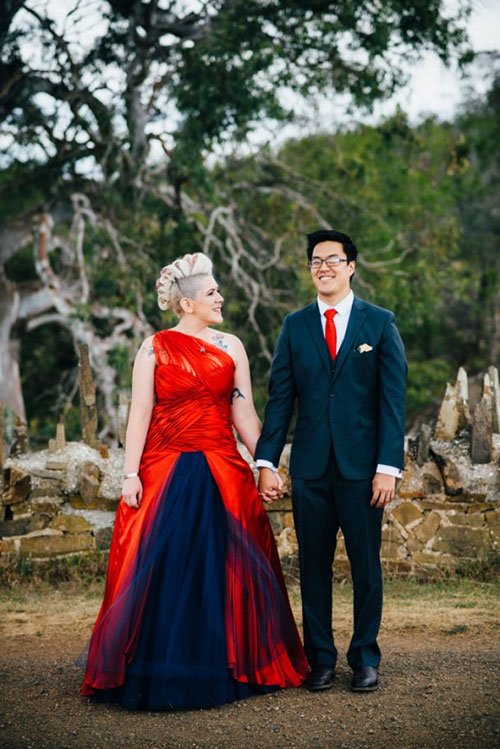 Image Source: rocknrollbride.com
All eyes were definitely on this bride as she walked down the aisle in this electric combination of red and blue! (She even managed to get her groom to color coordinate with her, albeit in a more understated way.)
4.
Ombré Ole!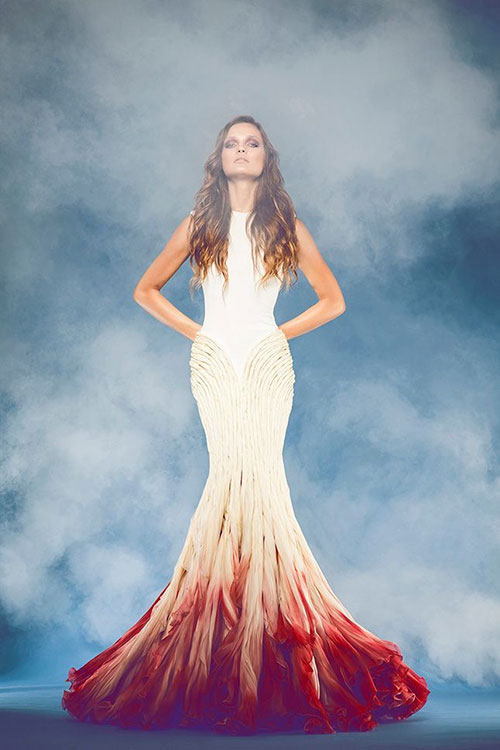 Image Source: modwedding.com
Be a fierce fire goddess in this ombré mermaid gown… if you can manage to make it down the aisle without tripping.
5. Fall Foliage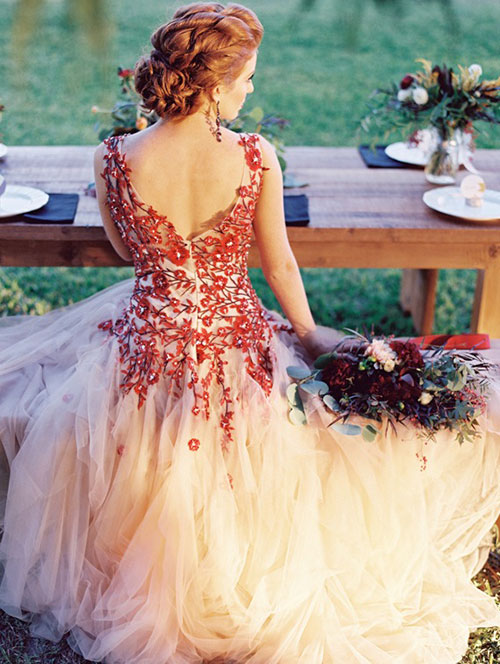 Image Source: 100layercake.com
Things were going great for this bride until a gardener bagged her up with the rest of the fallen leaves.
6. Vintage Vermillion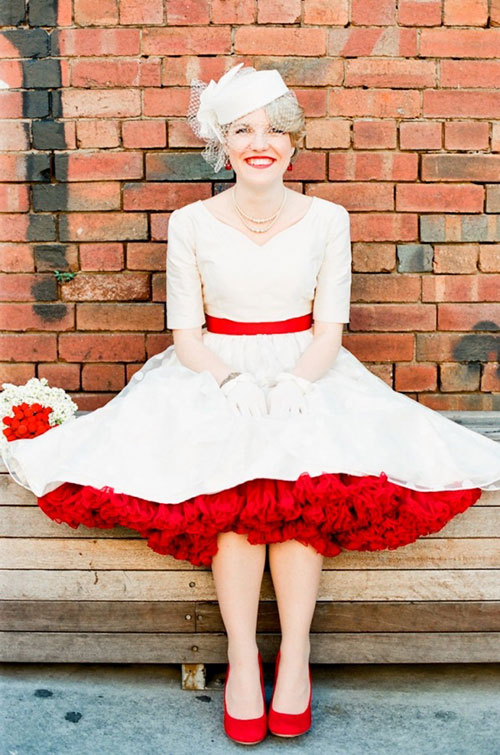 Image Source: ruffledblog.com
Add pops of red to a more traditional white dress to make yourself look like a candy cane (or a Red Cross worker) on your wedding day.
7. Badass in Burgundy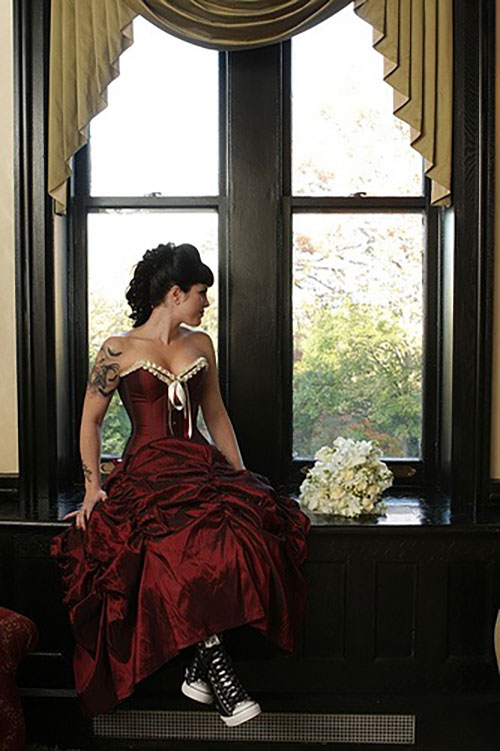 Image Source: offbeatbride.com
Pairing this antique style ball gown with a pair of high-tops will confuse any guest who is still desperately trying to figure out what the wedding theme is.
8. Stunning Scarlet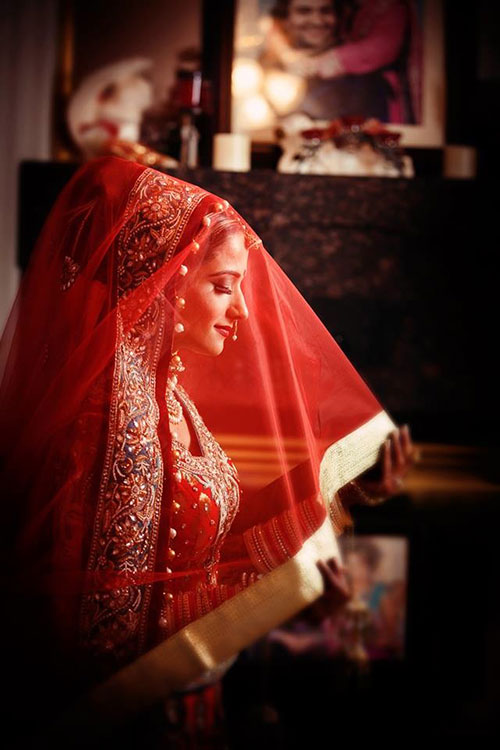 Image Source: oyepg.tumblr.com
Traditionally, Indian and Taiwanese brides have always worn red and gold wedding dresses. This stunning lady looks almost saintly in her scarlet sari.
9. Marriage Maxi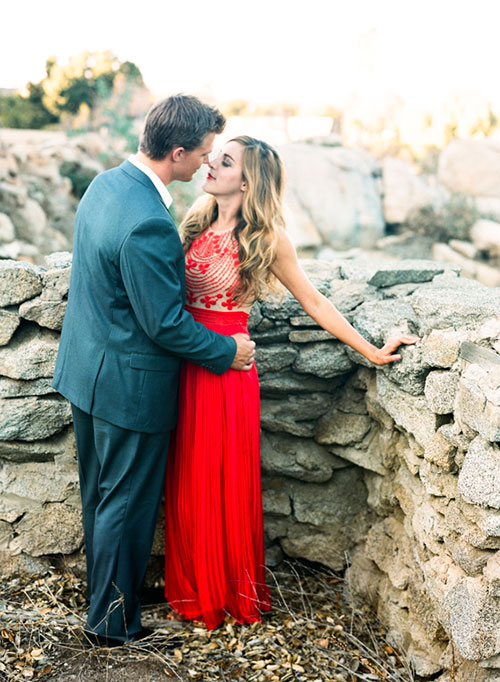 Image Source: 100layercake.com
This bride is totally on trend in her '70s style maxi dress, even if her groom looks like he's from a blander era.
10. Candy Apple Red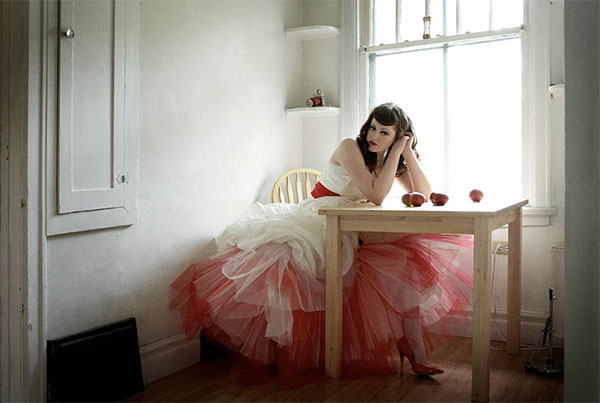 Image Source: 100layercake.com

The voluminous skirt on this wedding gown is perfect for twirling at the reception… or posing for pouty photo shoots in a kitchen.
11. Colorful Crimson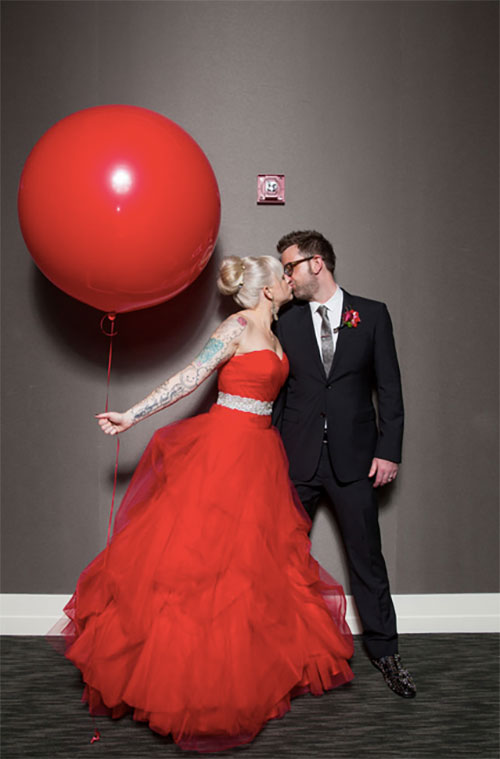 Image Source: rocknrollbride.com
Note: the look only works if you accessorize with a giant balloon.
12. Gowned Guinness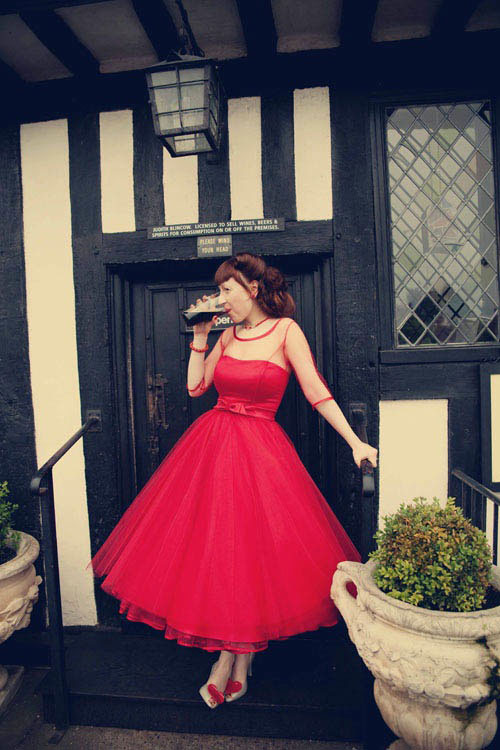 Image Source: rocknrollbride.com

This retro-sexual dress looks at home in a church or in the local pub! Recognize her Vivienne Westwood shoes?
13. Cherry Train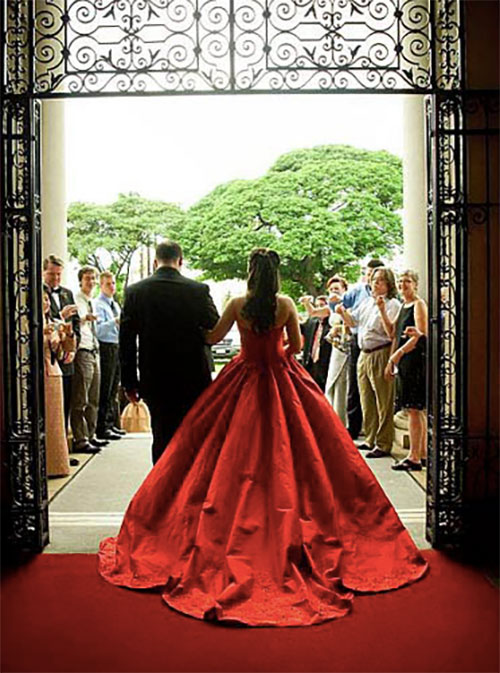 Image Source: rocknrollbride.com
This bride knows when the reception's over, the guests will hate to see her go… but they'll love to watch her walk away.
After seeing these cardinal-colored gowns, you might be inspired to throw your own kind of red wedding. (Just hopefully not a Game of Thrones kind of way!)