Do you dream of doughnuts? Seriously considering a jelly-filled glazed wedding cake? Then you might want to check out Voodoo Doughnuts in Portland, Oregon. It's the only doughnut shop that also doubles as a Wedding Chapel.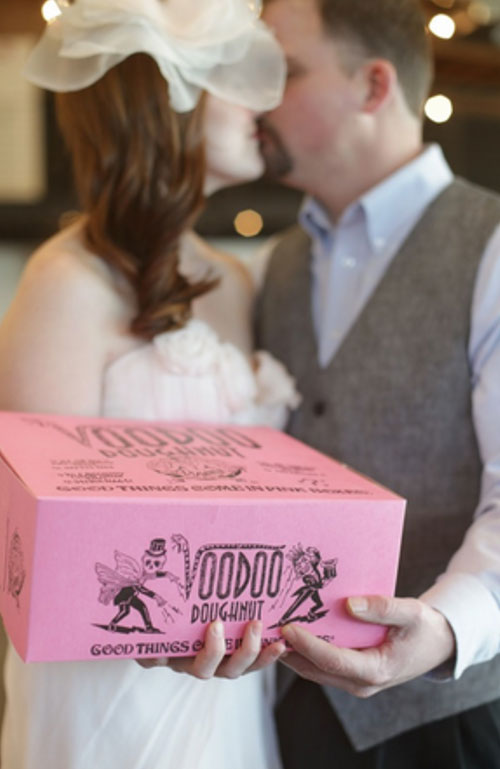 Image Source: lovetoastblog.com
Voodoo Doughnuts has turned their doughnut shop into a major tourist destination with their unusual and (sometimes) raunchy confections. Their specialty creation is a jelly-filled doughnut that's shaped like a man. When you stab him with a pretzel stick, he "bleeds" jam. Who wouldn't want to get that all over their wedding dress?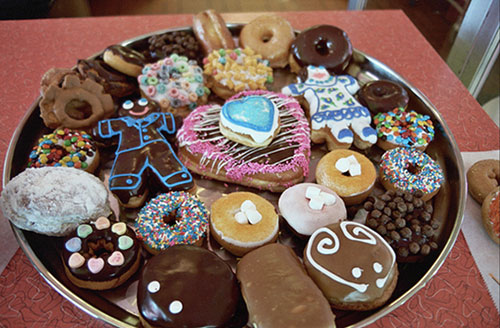 Image Source: Flickr
According to their website, all Voodoo Doughnut weddings ceremonies are performed by an ordained minister beneath the "holy doughnut" and a velvet painting of either Isaac Hayes, Kenny Rogers, or a Crying Conan (it depends on the location.) If you're lucky, you might get the store's owner, Cat Daddy, to preside over your union!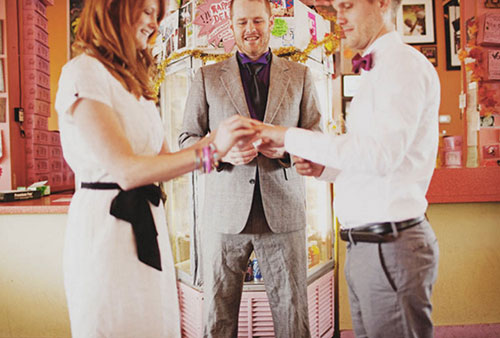 Image Source: Rock N' Roll Bride
All guests receive complimentary coffee and doughnuts at the reception. They have doughnuts that are covered in crazy things like Cap'n Crunch, bacon, Tang, or NyQuil. (The NyQuil one was a joke that got shut down by the FDA.) For the bachelorette party, they even have a "Cock and Balls" doughnut – a penis shaped pastry with cream in the balls. It's the wedding desert that every girl dreams of.
If you're in the Portland area and have a mother that will disown you if you have your wedding in a doughnut shop, you can still get your fried dough fix. Voodoo Doughnuts has a pink food truck that can be rented by the hour. The truck is staffed by graduates of Urban Opportunities, a job-readiness program for under-privileged high school students in Portland.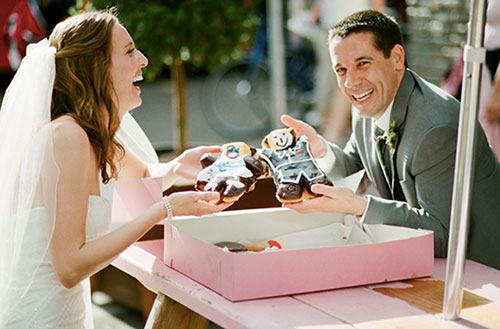 Image Source: snippetandlink.com
For people who value a sugar rush over a stuffy ceremony, Voodoo Doughnuts might just be the perfect place to say "I Voodoo."