While Owen Wilson and Vince Vaughn are probably the most famous wedding crashers: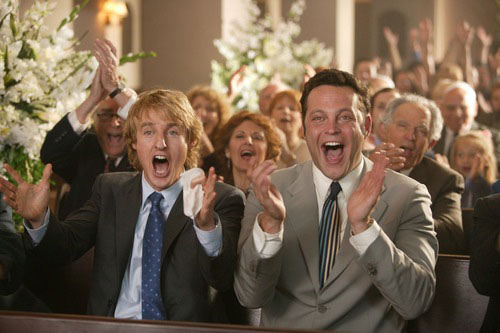 Image Source: fanpop.com
Some real life famed personalities are putting their party guy antics to shame.
Here are 9 celebrities who are really excellent wedding crashers.
1. Bill Nye The Science Guy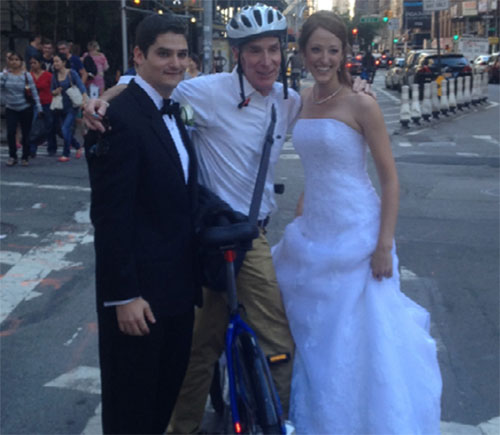 Image Source: yourtango.com
While out for an afternoon bike ride through New York City, the beloved children's show host ended up running into this happy couple. He was nice enough to stop and take a photo with them and also give them a scientific explanation about why the bride's dress was white.
2. Barack Obama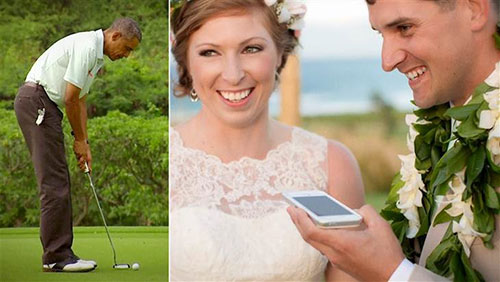 Image Source: media1.s-nbcnews.com

A couple was recently forced to move the location of their wedding because President Obama had scheduled a round of golf at the same place. Realizing what he had done, the Commander-in-Chief personally called the newlyweds to apologize for disrupting their big day. Although it would have been way cooler if the President had actually gone to the wedding, we know he was probably busy solving an international crisis or something.
3. John Travolta

Image Source: xotheknot.files.wordpress.com
The happy couple in this photo met the Grease star the night before their nuptials at a bar in Georgia. In typical, creepy John Travolta fashion, the actor tracked down their venue and showed up at the ceremony unannounced the next day. We just pray he didn't go all Adele Dazeem on the bride and start touching her face.
4. Taylor Swift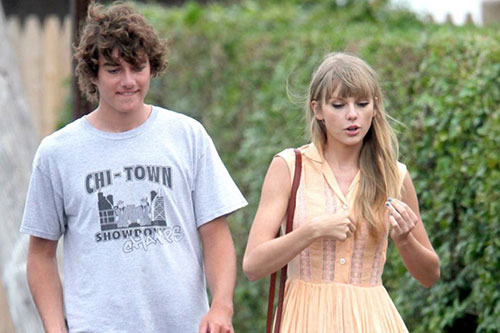 Image Source: assets.nydailynews.com
When Taylor Swift decides to do something, she really commits. Not only did she crash a wedding, she crashed a wedding on the Kennedy compound! While dating Conor Kennedy (grandson of Bobby), Tay Tay crashed his cousin Kyle's wedding. When she was asked to leave by the bride's mother, Taylor refused! Needless to say, Taylor's relationship with Conor didn't last forever. (But does ANY Kennedy romance last?)
5. Steven Tyler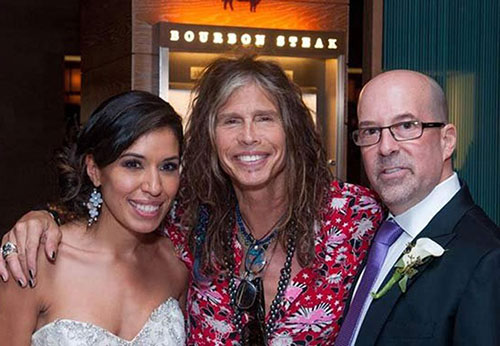 Image Source: xotheknot.files.wordpress.com
Steven Tyler was walking through the Four Seasons in Washington, D.C., when he passed by a wedding reception. The photographer roped him into posing for photographs with the newlyweds and he kindly obliged. They weren't able to convince him to stay and sing "Love in an Elevator" at the wedding reception, however.
6. Serena Williams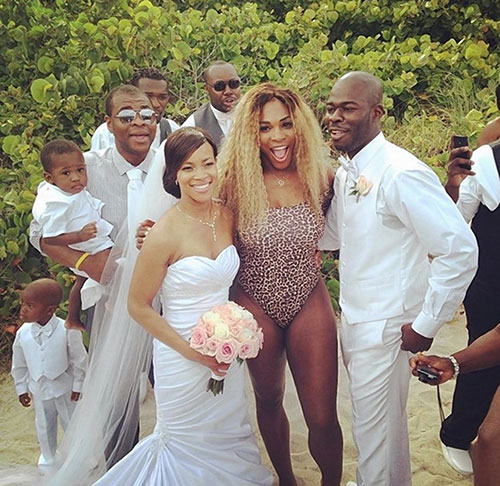 Image Source: assets.nydailynews.com
If your crazy, drunk aunt showed up to your wedding in a leopard print bathing suit, you might not be too pleased. But when Serena Williams does it, you just go with it. The tennis star was walking on a beach in Miami when she came across a couple tying the knot. She decided that the couple needed to have a Wimbledon winner in their wedding pictures and they decided a photo shoot was better that hearing her grunt at the reception.
7. David Hasselhoff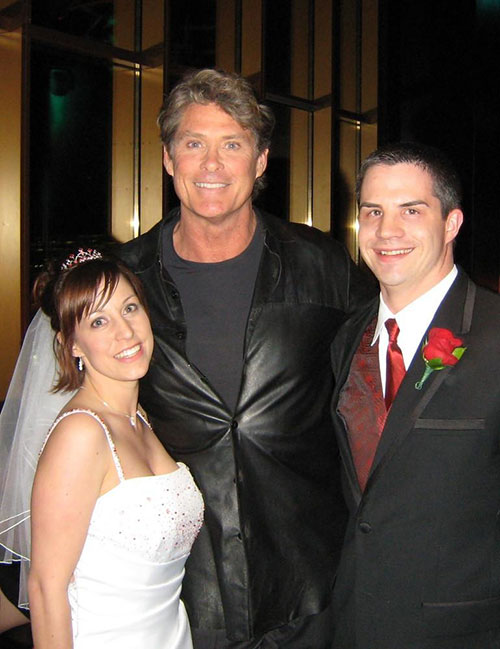 Image Source: upload2.weddbook.com
While dining at the Roslin Beach Hotel in Essex, England, the Hoff was approached by people attending the wedding of Clare and Craig Shipman. The Knight Rider and Baywatch graciously granted their request to treat the bride and groom to a surprise appearance. Unfortunately, he didn't serenade the wedding party with one of his classic hits:
8. Lady Gaga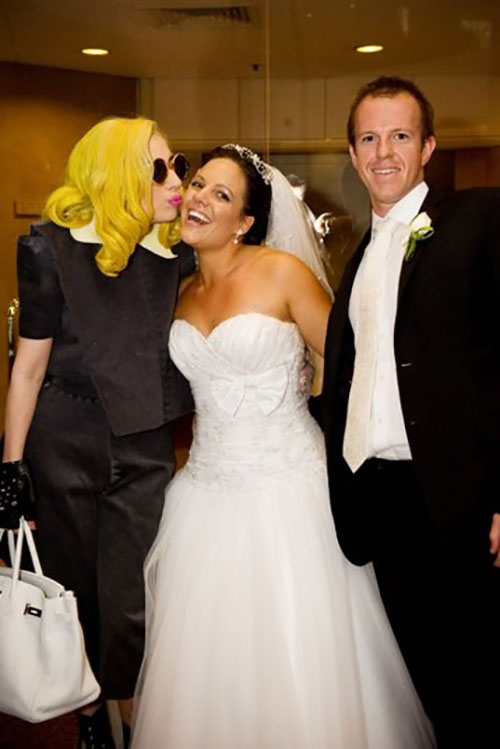 Image Source: i.telegraph.co.uk
The newlyweds in this photo probably had a hard time maintaining their poker face when Mother Monster strolled into their reception. Gaga was on her way to a performance when she noticed the festivities going on in a function room at the Intercontinental Hotel in Adelaide, Australia. After posing for photos with the bride and groom, she bought them both drinks. You know what Lady Gaga deserved for that gesture? Applause.
9. Tom Hanks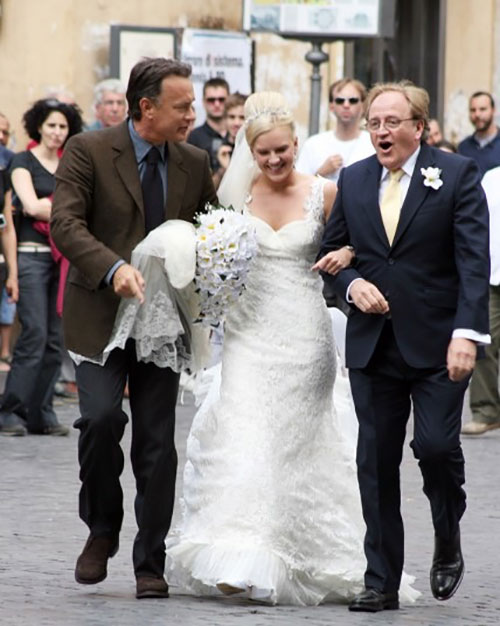 Image Source: i.telegraph.co.uk
Life is like a box of chocolates: you never know what you're going to get. Sometimes, you get film star Tom Hanks coming to your rescue when the path to your wedding ceremony is obstructed by film crews working on Angels & Demons. Hanks made everyone stop filming so this lucky bride could enter the Pantheon in Rome with her father. Hanks' chivalry didn't end there. He escorted the young woman into the church and made sure her long veil didn't get wrecked from being dragged on the floor.
Most people dread the idea of people crashing their wedding and stealing their booze and cake. But if one of these celebrity wedding crashers came to our wedding, we'd be sure to shower them with photo requests. (Except maybe for John Travolta. He's just so touchy-feely!)