You've been dreaming of having a Fairy Tale Wedding ever since you first heard the words "Bibbidi Bobbidi Boo." Now that you've found your Prince Charming, it's time to plan a wedding that's fit for a princess.
We've found 11 couples that took their Fairy Tale Weddings to the highest levels of fantasy:
1. Far, Far Away from Tradition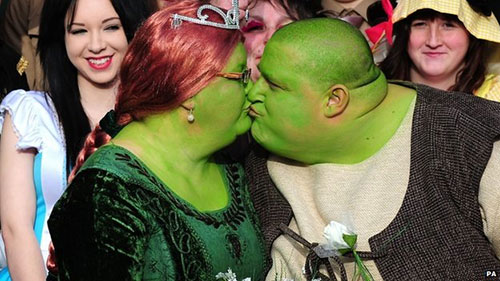 Image Source: bbc.com
Who said you had to wear white on your wedding day? This couple channeled our favorite ogres and painted themselves green for a Shrek themed wedding. They also encouraged the rest of their guests to dress up like their favorite fairy tale characters!
2. Tale as Old as Time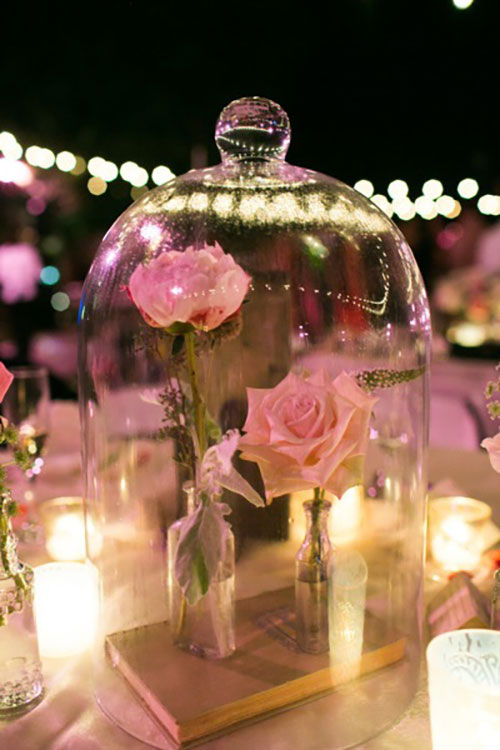 Image Source: stylemepretty.com
A Beauty and the Beast theme is PERFECT if you have a groom that's fully embraced the "lumbersexual" trend that's been going on. Place roses in a bell jar for a centerpiece that'll remind everyone about how you tamed that bearded man of yours!
3. Once Upon a Dream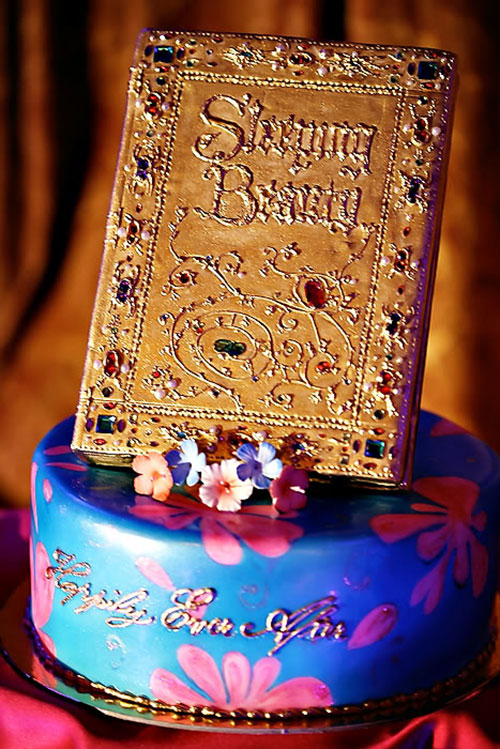 Image Source: magicaldayweddings.com
Show every one that you've read the book of love with this exquisite Sleeping Beauty storybook cake. Let's just hope that Maleficent doesn't crash the ceremony!
4. So This is Love

Image Source: blog.tbdress.com
Finally, a carriage that doesn't turn into a pumpkin at the stroke of midnight! Now you'll be able to dance the night away in those glass slippers you budgeted for.
5. Kiss the Girl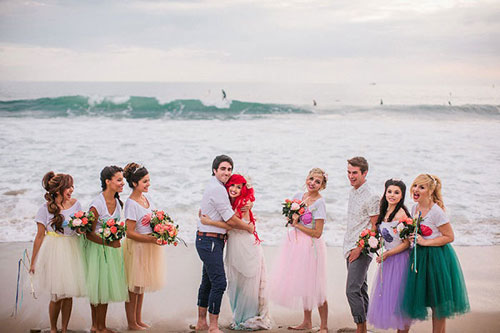 Image Source: boredpanda.com
Looks like Ariel finally got to be where the people are at this beach side cosplay wedding. Let's just hope the wedding party didn't feast on crab legs and flounder after the ceremony.
6. Frozen Fantasy
Image Source: hoteldeglace-canada.com
If you can't LET GO the idea of an ultimate Arendelle wedding, check into the Hotel de Glace in Quebec. The only ice hotel in North America, Hotel de Glace has its very own ice chapel!
7. A Whole New World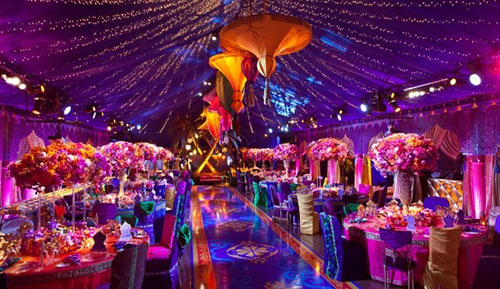 Image Source: estateweddingsandevents.com
Evoke the spirit of Agrabah and go for an Aladdin themed wedding. Even though you won't be able to actually fly down the aisle on a magic carpet, you'll still have a blast at a reception that looks like it was ripped from the pages of 1,001 Nights.
8. A Girl Worth Fighting For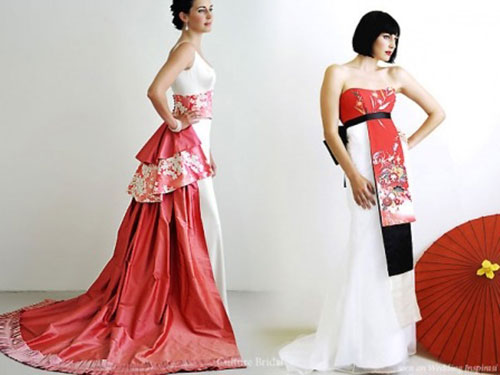 Image Source: disneyweddinginspiration.tumblr.com
For the strong, independent woman and her fighting partner, Mulan is the perfect non-traditional role model. Revel in the atmosphere of Ancient China with bold red patterns, magnolia blossoms and midnight fireworks!
9. Faith, Trust, and a Little Bit of Pixie Dust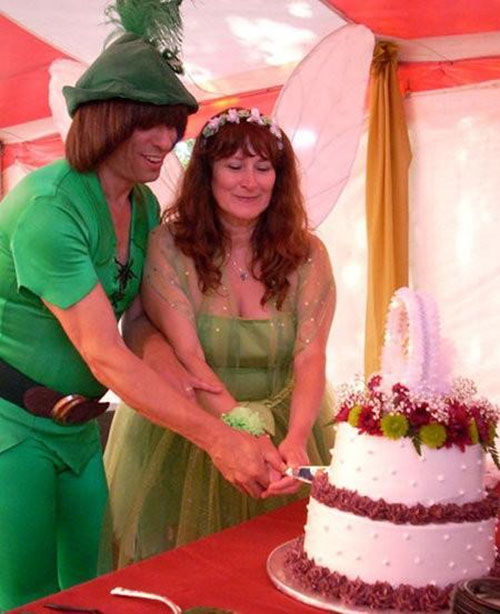 Image Source: walyou.com
What's a Fairy Tale Wedding without an actual fairy? Tinker Bell is sassy, independent, and totally besotted with Peter. Have your fiancé dress as everyone's favorite Lost Boy and take the second star to the right and straight on to marriage!
10. Whistle While you Wedding Plan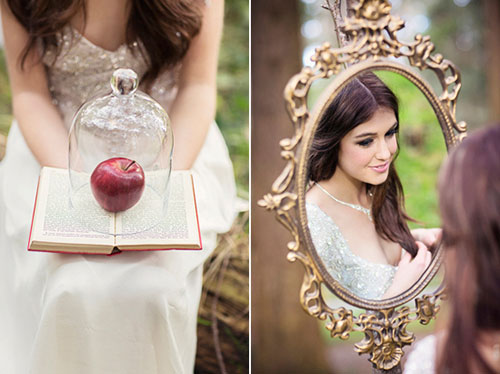 Image Source: polkadotbride.com
Channel the original Disney princess with apples, mirrors and an evil hag (we don't mean your mother-in-law.) Just remember, poison apples are never an appropriate substitute for cake!
11. Little Red Wedding Dress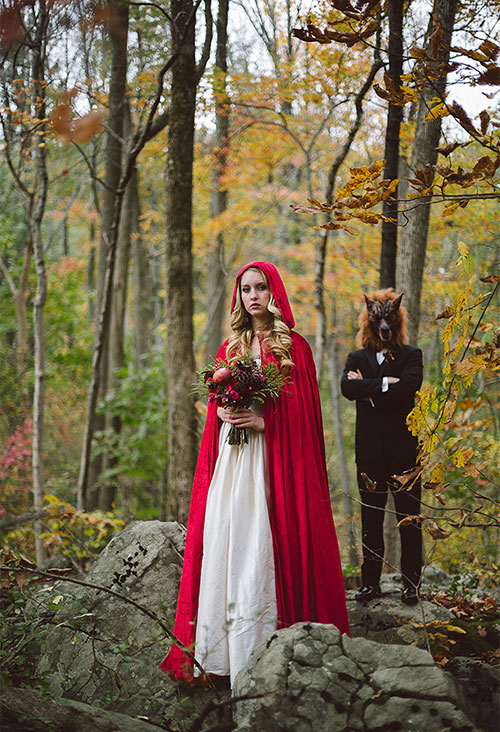 Image Source: styleunveiled.com
If Disney princesses are a little too tame for you, maybe it's time to go wild with a Little Riding Hood theme. That red cloak really stands out over that white dress. Just remember to keep your grandma under close supervision during the ceremony.
Hopefully these Fairy Tale Weddings will give you inspiration to create your own Happily Ever After. All you need is some creativity, a little DIY… and true love's kiss!