Admit it, at one point in your life you fantasized about getting married on a beach. Who could blame you? The sun is shining, the waves are crashing—it's basically the end point of every romantic scenario you've played out in your mind ever since you saw 27 Dresses.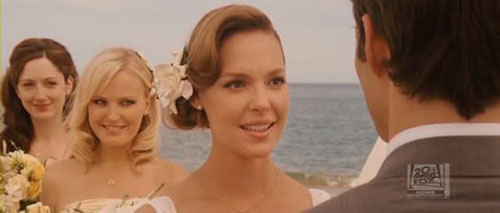 Image Source: Weddings Online
But that's the problem: almost everyone shares that thought. Most beach weddings are, sadly, pretty much identical. They all involve cloth covered chairs, an aisle marked in the sand by flowers or stones, an archway with the backdrop of water, and the colors blue and pink.
Here's some photographic evidence to prove that we're NOT exaggerating: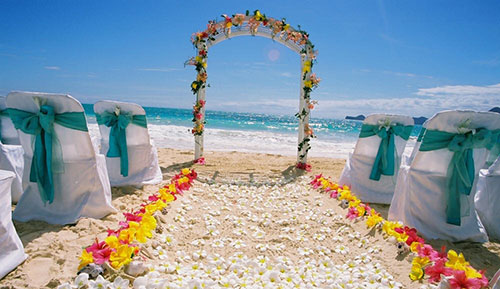 Image Source: Aloha Island Weddings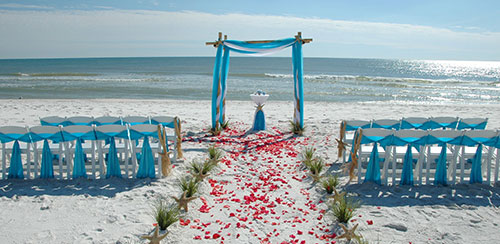 Image Source: Wedding Wizh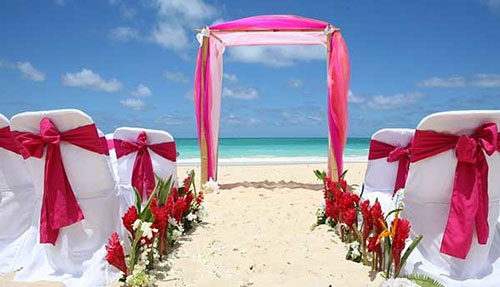 Image Source: Decoration 0
Clearly, this idea has been overplayed, but it also reminds us why beach weddings are terrible:
1. There's sand... everywhere:
Image Source: Luu Sky Sapphire Blog
You know how after you spend a day at the beach you just want to shower and get all the sand out of every place in your body it shouldn't be? Imagine having to attend a party directly after and pretend that your sick dance moves aren't just a clever way of getting the beach out of your crotch.
2. Rain:
Gif Source: Reply Gif
Kissing in the rain: romantic. Watching people kiss in the rain: not so much. This is a problem for any outdoor wedding, but it's so much worse on the beach. With the waves crashing and water pouring down, everyone is soaked AND they can't hear anything. Which, depending on how cheesy your vows are, may not be such a bad thing.
3. Unpredictable Tides:
Gif Source: Giphy
Everybody always seems so surprised when a big wave crashes a little too close to comfort. If you don't like it when the tide knocks over your sandcastle, you're definitely not going to be happy when it claims the bride and groom.
If you still want to get married surrounded by the waves, here are some alternatives to channel your nautical side.
1. Cliffside Wedding: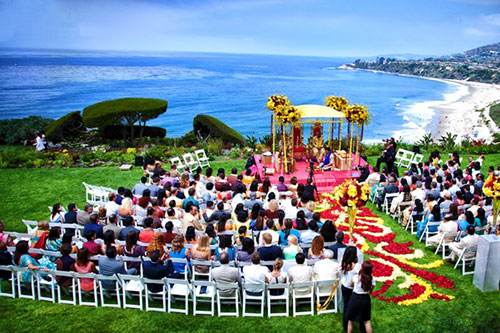 Image Source: Global Photography
What's better than a view of the ocean when you say "I do"? A view overlooking the ocean. You can even keep the floral archway! Why crop the image when you can have a full panoramic?
2. Boat Wedding: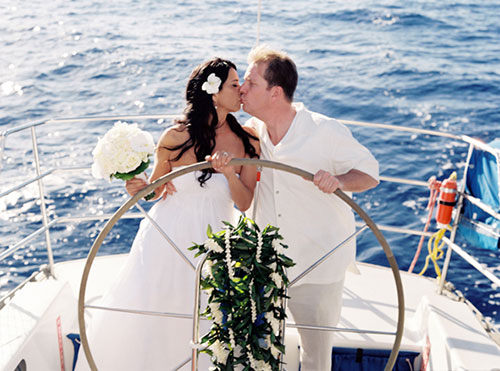 Image Source: Wendy Laurel
Make like Ariel and Prince Eric and set sail towards the sunset! Is there anything more romantic then getting married by a captain? Plus, you can take cover in case a storm starts a-brewin'.
3. Underwater Wedding: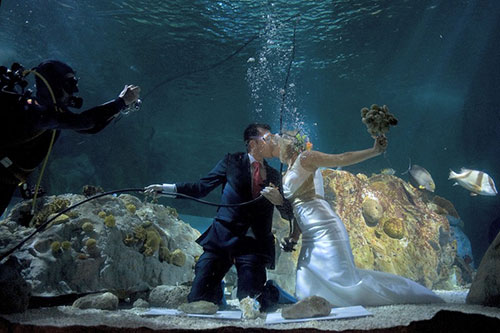 Image Source: Persun Blog
For the truly adventurous seagoers, why not go all out and actually get married below the surface? Nothing says true love more than plunging into the dark unknown together!
Being a beach bum doesn't mean you have to have a clichéd wedding. There are plenty of ways to show you adore the shore without the typical "shoes optional" ceremony.