Are you a Voodoo child? Do you long for the full moon so you and your beloved can light a candle and bind your dolls together in a cosmic magical knot? Or maybe you're just looking for a bayou-styled ceremony that none of your other bride-to-be friends would ever dare to try!
Here are 11 ways to have a Voodoo inspired wedding:
1. Behind the Mask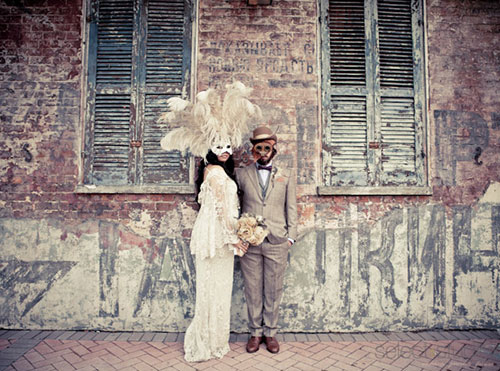 You can't harness the power of old New Orleans without a pair of stunning Mardi Gras masks.
2. Save the Date...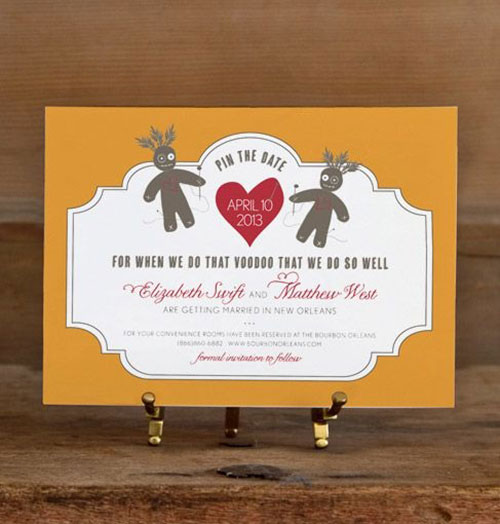 ...and stick a pin in it!
3. Voodoo Venue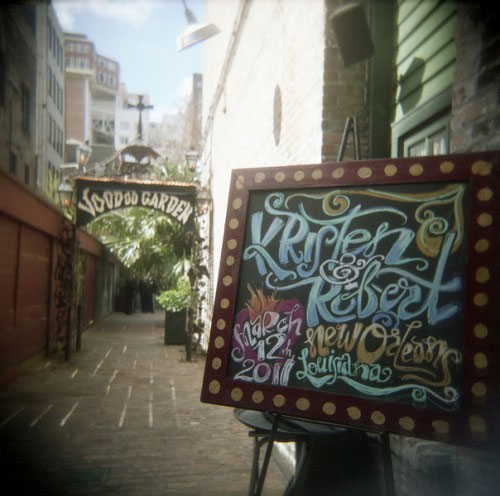 The House of Blues in New Orleans has it's own Voodoo Garden that's perfect for some midnight magic, music, and voodoo vows.
4. N'awlins Nuptials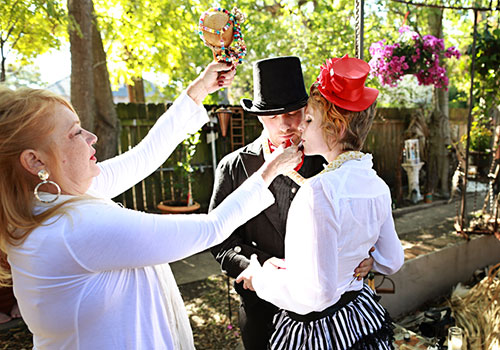 Bloody Mary, a self-proclaimed 11th generation Voodoo Queen, will be the priestess for your wedding ceremony. (And YES, that couple IS kissing a snake.)
5. Hoodoo Handfasting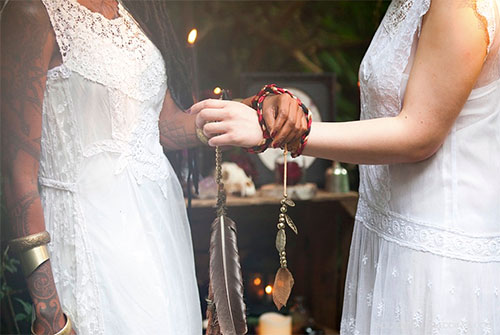 While hand fasting is an ancient Celtic tradition, it's become a popular part of Pagan and Voodoo wedding ceremonies.
6. Black and White and Witchy All Over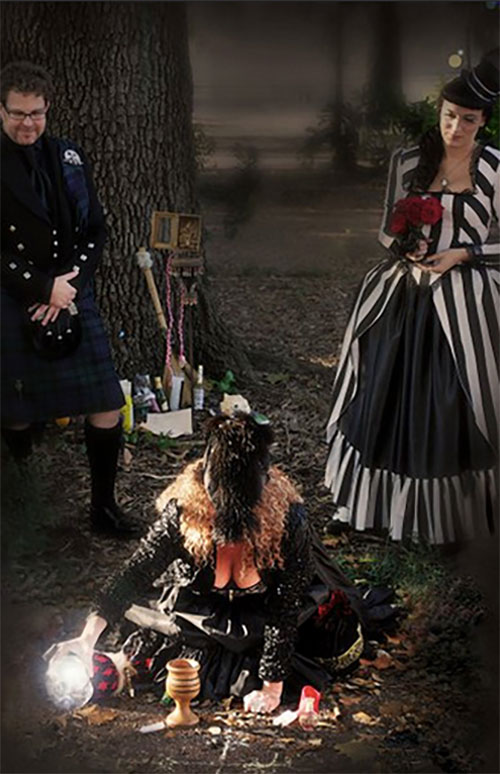 Make sure your Voodoo priestess knows how to properly set up the altar.
7. Sweet Simplicity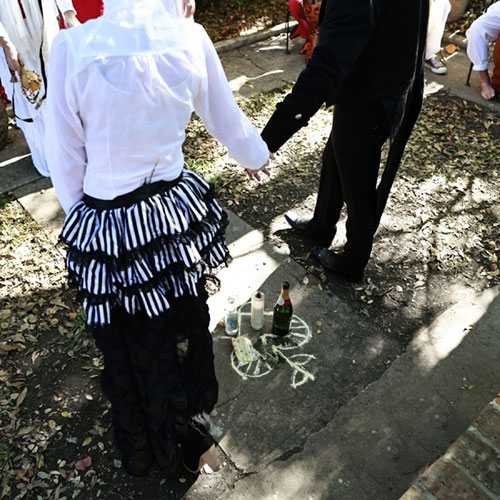 Sometimes all you need are a few candles, a bottle of wine and chalk art. Sorry, florists of the world.
8. Twisted Cake Topper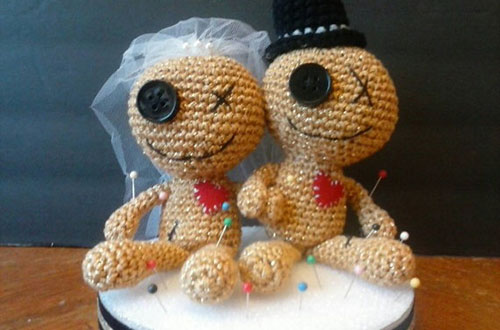 When the wedding is over, your cake topper can double as a pincushion! Sweet!
9. Voodoo Doughnut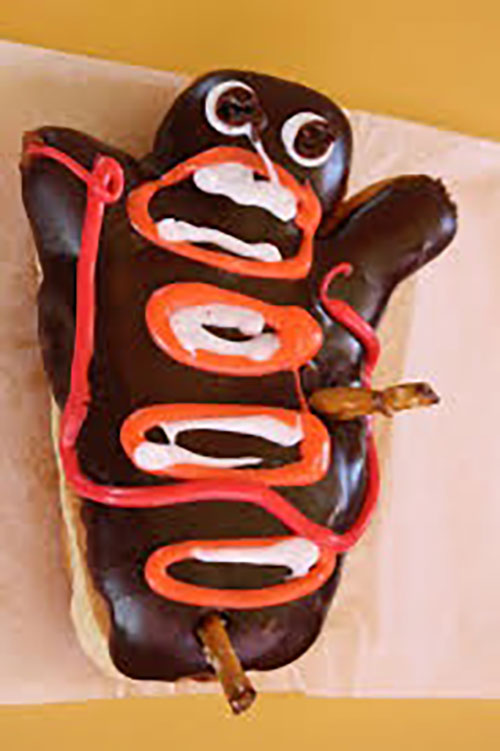 Ship in a box of Voodoo Doughnuts from Portland for a totally interactive wedding dessert! (Stab it with the pretzel and it will ooze blood... uh, we mean, jam!) And for the true doughnut fanatic check out this donut shop wedding!
10. Burton Bakery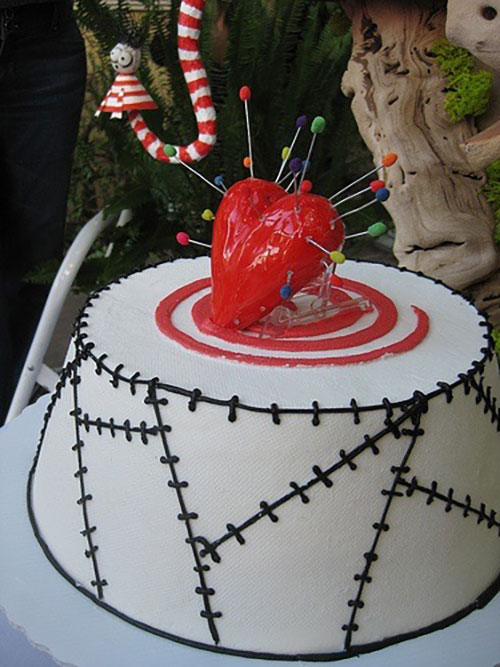 If you'd rather have cake, this Tim Burton-esque creation is anything but traditional.
11. Guys and Voodoo Dolls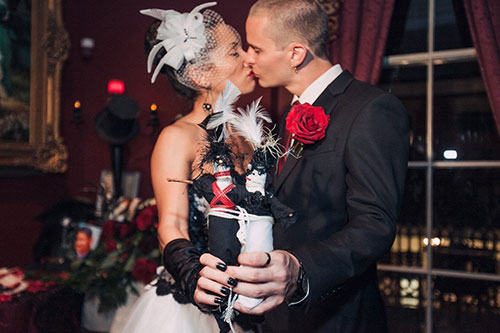 Your voodoo day wouldn't be complete without a set of matching bride and groom dolls.
Now that you've seen how other couples are doing that voodoo that they do so well, it's time to start planning your own mystical marriage.
Photo Attributions: