For almost eight years, Mad Men has been giving weekly glimpses into the Technicolor style of the 1960s. From glamorous fashion to killer interior design, there's something worth swooning over in every episode.
Now that the series is drawing to a close, it's the end of an era. We're saying goodbye to girdles and gimlets, and hello to questionable facial hair and far-out fashion.
If you aren't quite ready to say so long to the employees of Sterling-Cooper, here are 13 ways you can draw inspiration from Mad Men for your perfect Mid-Century Modern wedding.
1. The Invitations: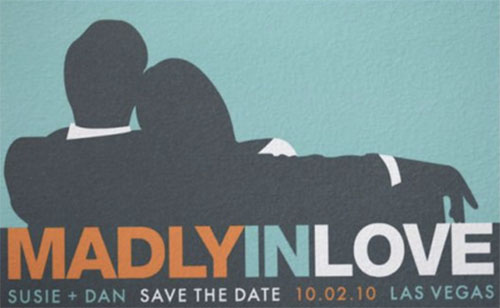 Image Source: Wedding Chicks
Just because that falling silhouette in the opening credits is drinking alone doesn't mean he has to stay that way. Set the tone to your Mad Men wedding right off the bat with these stylish "Save the Dates."
2. The Décor: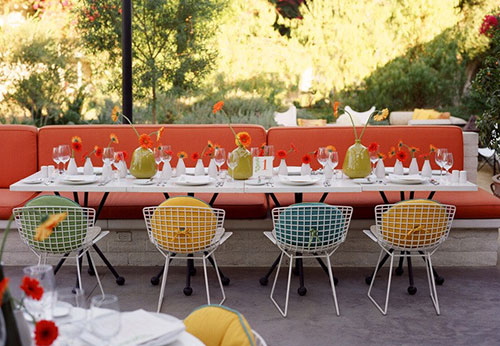 Image Source: The Knot
At the end of the '60s, the color palette started to turn a little more... avocado. This orange and green table setting looks like it could have been set up by Megan Draper for one of her wild canyon parties.
3. The Place Cards: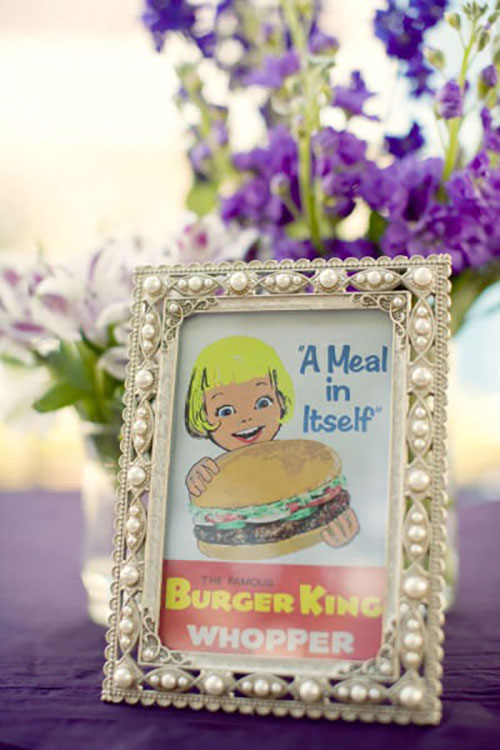 Image Source: Popsugar
Who needs table numbers when you can sit at the Burger King table?
4. The Dress: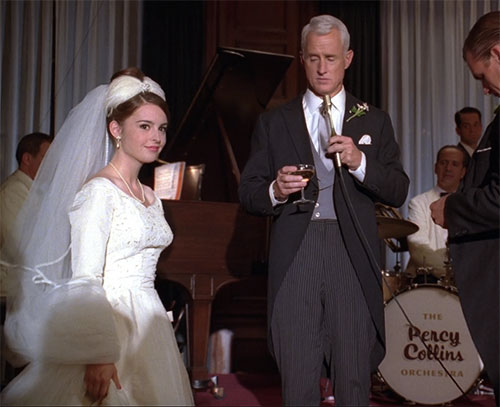 Image Source: Netflix
While Roger Sterling's daughter wore a traditional gown for her white wedding in Season 3, her feathered headpiece looks like it would be right at home on our alternative veils list.
But if you want to be series finale appropriate, you need to find a vintage, flowing Gunne Sax dress: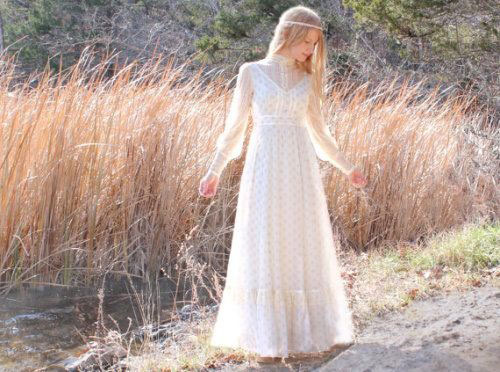 Image Source: Etsy
5. Your Hair: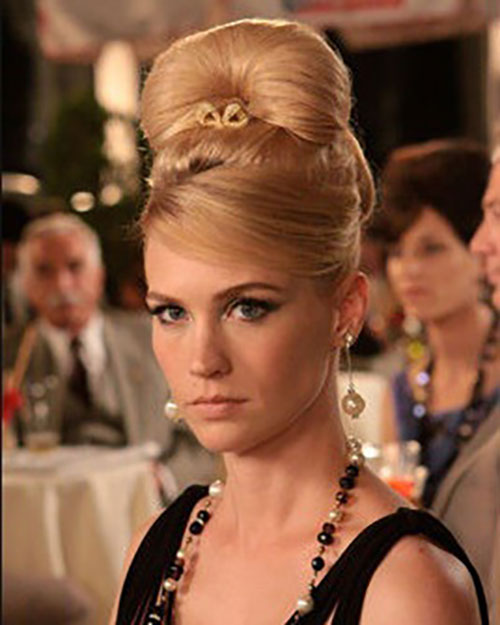 Image Source: NY Daily News
By the end of the '60s, most hip chicks were wearing their hair down, but on your wedding day, you've got to try one of Betty's up-dos. Remember, "the higher the hair the closer to God" was a 1960s motto.
6. Your Groom: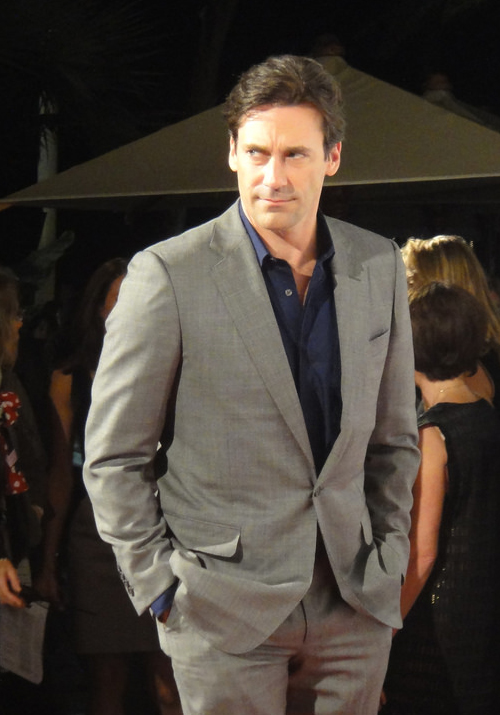 Image Source: Behance
When it comes to marriage, Don Draper might be the worst husband to emulate, but the man sure knows how to wear a three-piece suit.
7. Your Bridesmaids: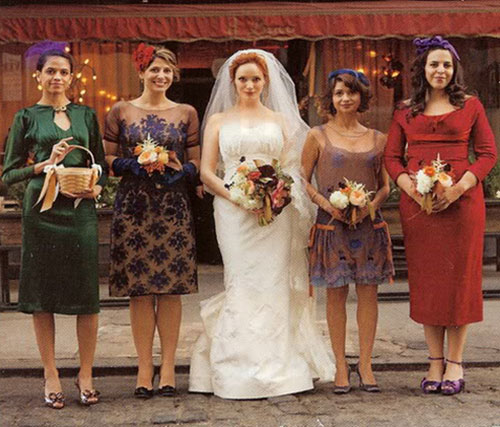 Image Source: Flights of Fab Fashion Fancy
Mad Men star Christina Hendricks let her art influence her life when she had her bridesmaids dressed in these colorful vintage frocks.
8. Your Guests: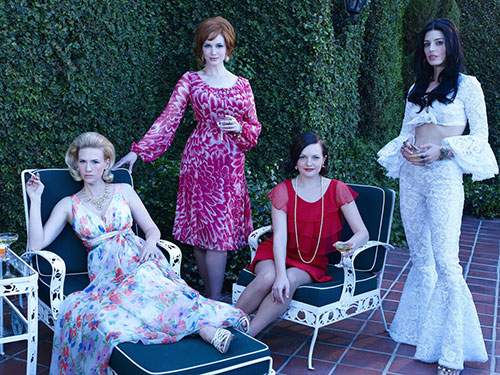 Image Source: Huffington Post
Remind your guests that this wedding is all about California cool and the Summer of Love.
9. The Food:
Image Source: Buzzfeed
There are hundreds of horrifying period-appropriate recipes hiding out on the internet! If you're truly committed to this theme, you'll have to serve food that's a little fancier than cocktail weenies. And marriage is all about commitment, isn't it?
10. The Drinks: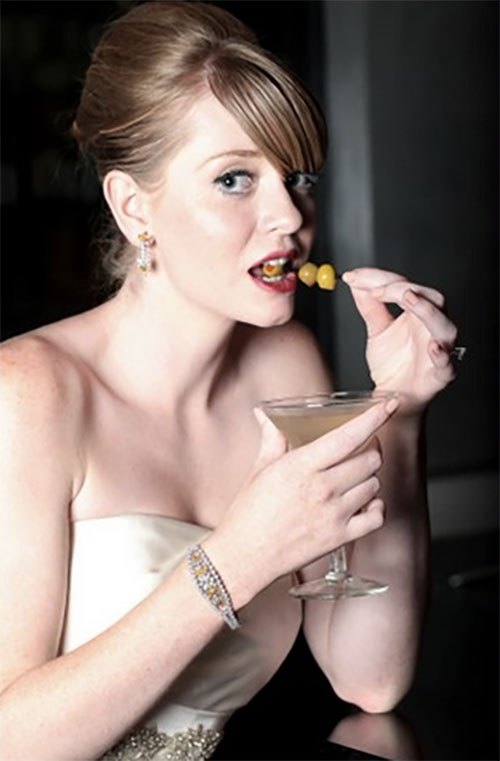 Image Source: LoveWedBliss
Don Draper wouldn't drink a pink couple's cocktail and neither should you.
11. The Favors: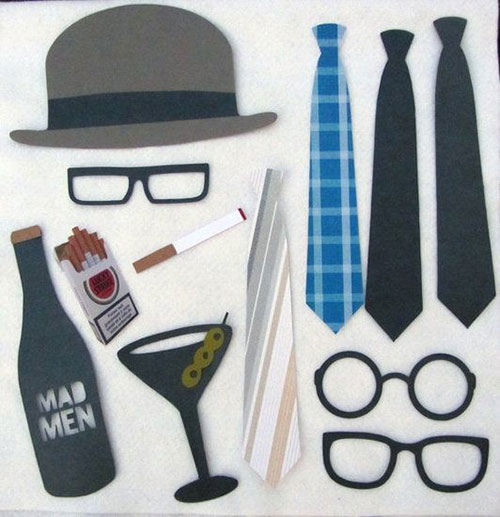 Image Source: Popsugar
Use your stenciling skills to create fun Mad Men style felt photo-booth props.
When your guests are done with pictures, they can relax with a cigarette: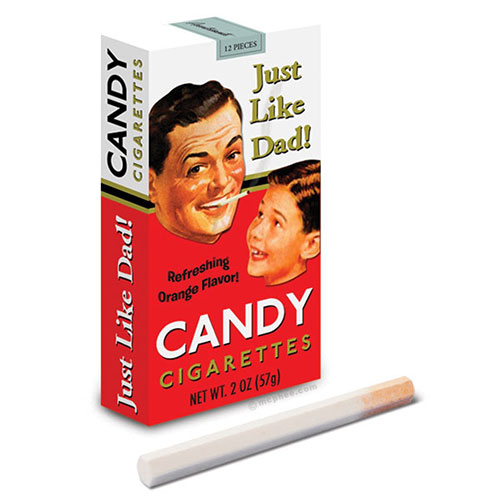 Image Source: NY Daily News
12. The Entertainment: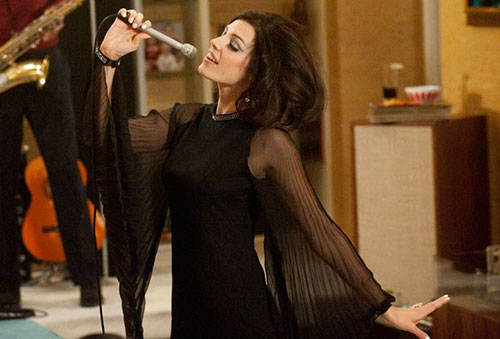 Image Source: The Femme Fatales
Hire a well-dressed crooner to perform all of your favorite obscure 1960s French New Wave hits.
13. The Photos: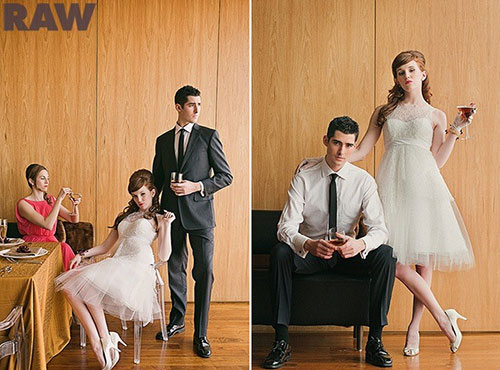 Image Source: Raw Photo Design
The secret to getting that perfect Mad Men pout? Liquor and resentment.
If you follow our stylish advice, you'll be sure to have a wedding that'll get your guests dancing like Pete and Trudy: