When this photo of a canine flower girl standing alongside her cowboy-boot-wearing bride showed up in our Instagram feed, we knew we had to see the rest of the wedding.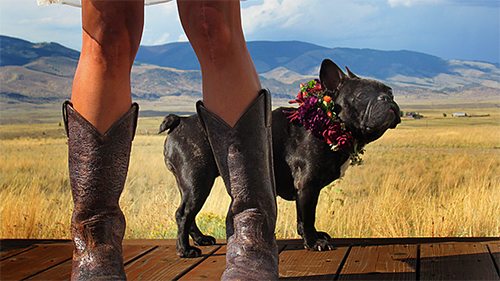 Luckily, bride Wendy Soo Hoo was more than happy to share all of the details of her Montana Mountain wedding with us, and now you!

Wendy and her groom, Mark, were married in Paradise Valley, Montana.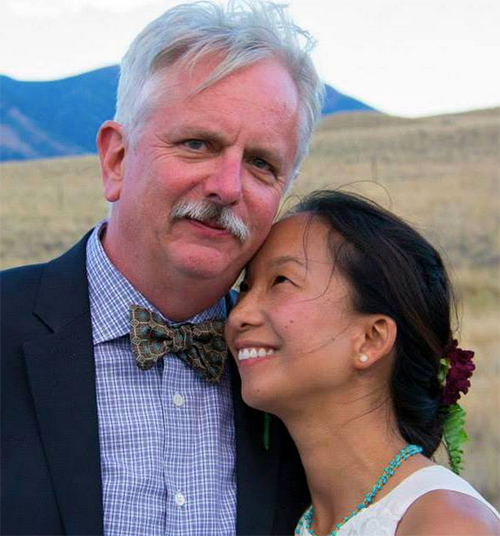 Just slightly north of Yellowstone National Park, with its stunning mountain views and wide-open spaces, Paradise Valley proves that you don't need a formal wedding venue when you have the great outdoors: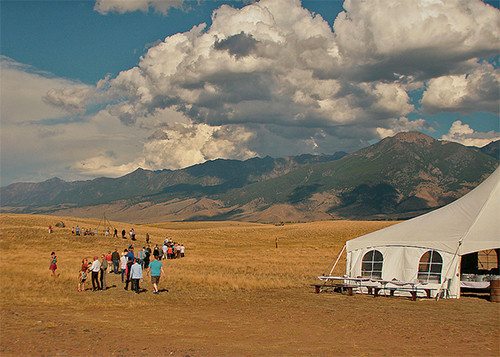 The whole affair was casual and carefree. Wendy and Mark made sure that every guest was a part of the ceremony by leading them in a group procession to the wedding site. (The processional song: "Hard to Concentrate" by the Red Hot Chili Peppers.)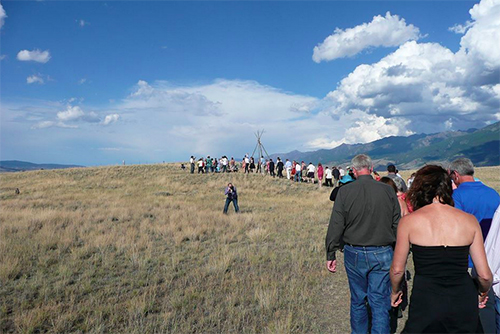 The wedding was officiated by one of the couple's best friends: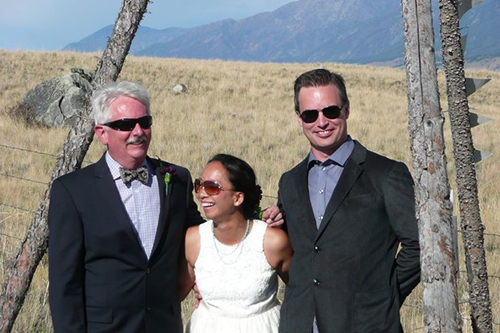 Under an amazing barebones teepee: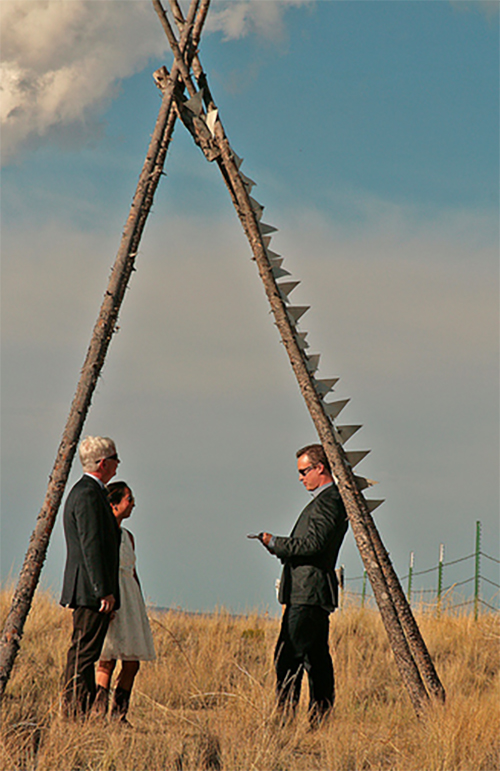 It lasted eight minutes and ended just as a bald eagle serendipitously flew overhead. (Too bad there isn't a picture of THAT.)
Then it was time to walk back to the reception tent, with the flower girl leading the way.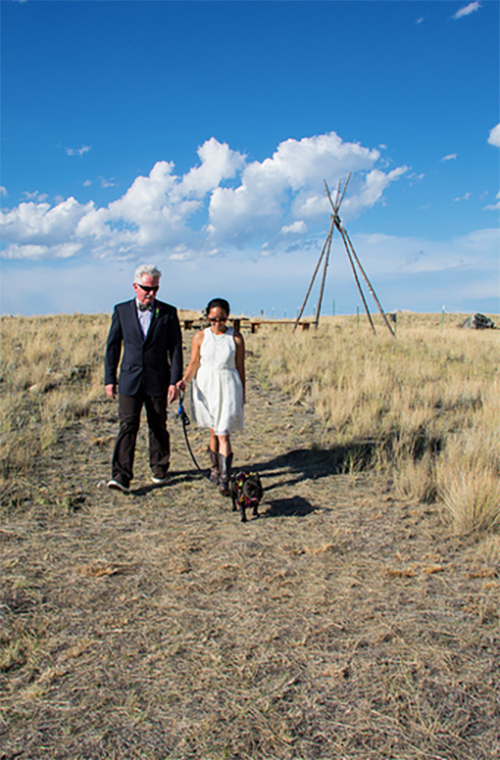 Shall we take another look at that gorgeous pooch and her stunning floral collar?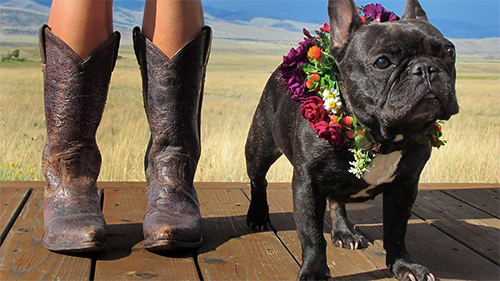 The reception was held at The McCulley Cabin, a private residence that can be rented out for mountain vacation weekends.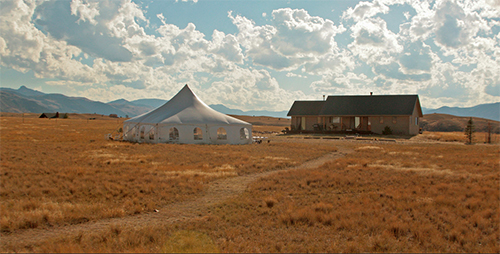 The wedding was relatively inexpensive for an event of its size. (The whole thing cost about $13,000 for 80 guests.) Friends and family pitched in and helped with all the hard work, from set up to break down.
When it was time to eat, a pizza truck rolled in and supplied everyone with wood fired, cheesy decliousness.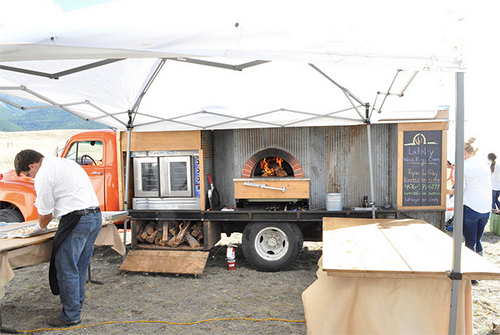 All libations were kept in icy buckets, for guests to help themselves.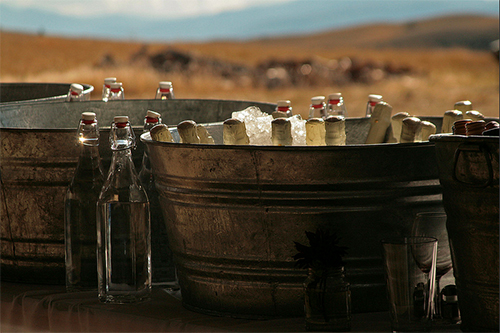 All that pizza and beer is enough to make anyone smile!
This sweet thank you note decorated the tables. (What an ingenious way to get out of sending "thank you's" months after the wedding!)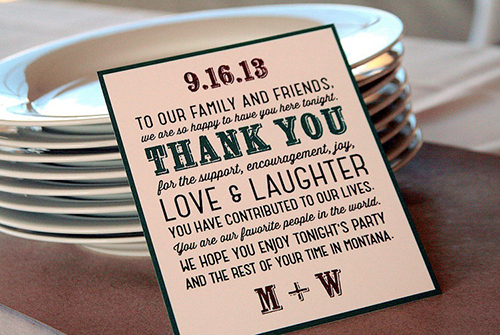 At the end of the day, Mark and Wendy finally had a little time to relax and enjoy the spectacular views around them.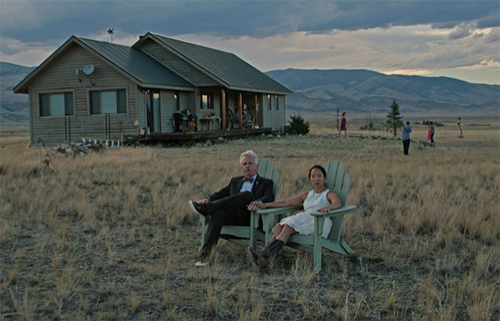 There was even a surprise lightning storm! How fitting that their perfect day ended with nature's fireworks.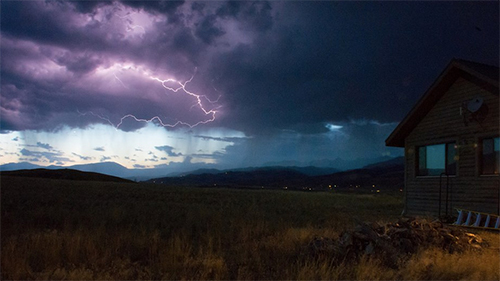 Photography: Crispy Pics Photo
Stylist: Style Major Domo
Reception Venue: McCully Cabin
Pizza Truck: LaFoley Oven