The Tiki lifestyle was all the rage in the '50s and '60s. People couldn't get enough of rattan furniture, Mai Tais, and pu pu platters. If you're the kind of couple that still loves the idea of a date night at the local Tiki lounge, listening to ukuleles, and sitting on bamboo... you might want to consider throwing a retro-fabulous Tiki wedding!
Here are 13 ways to add some Tiki flavor to your tropical ceremony:
1. Beach Party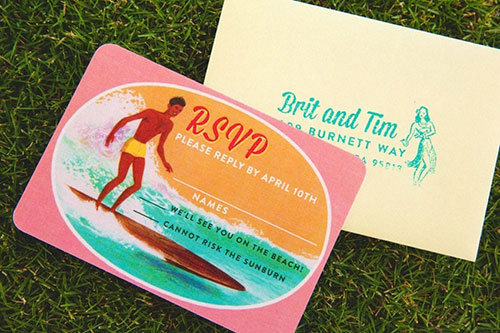 Once your guests get these groovy invites, they'll be scrambling to find their bikinis and trunks!
2. Idol Worship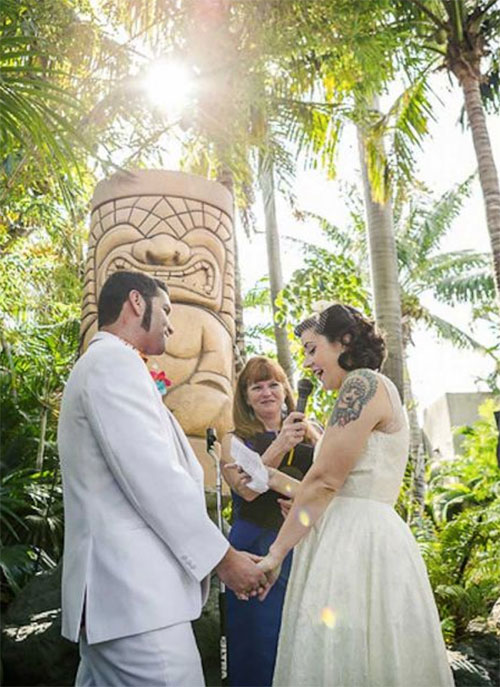 Say your vows in front of a giant Tiki idol. (But don't touch it! Remember what happened to Bobby when the Brady Bunch went to Hawaii?)
3. A Dress to Shake Your Hips In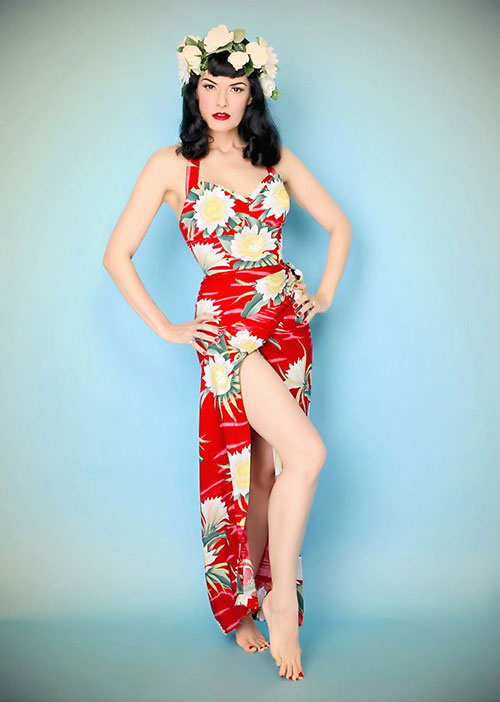 Dress your bridesmaids (or yourself) in a stunning Hawaiian print.
4. Better Than a Lei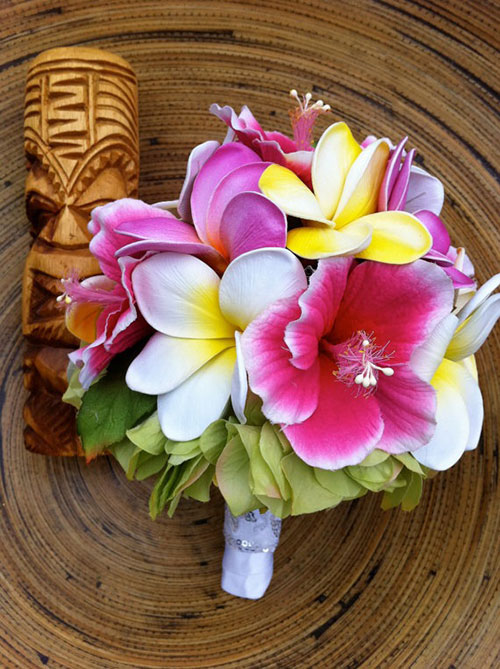 Fill your bouquet with tropical flowers like orchids and hibiscus.
5. Under My Umbrella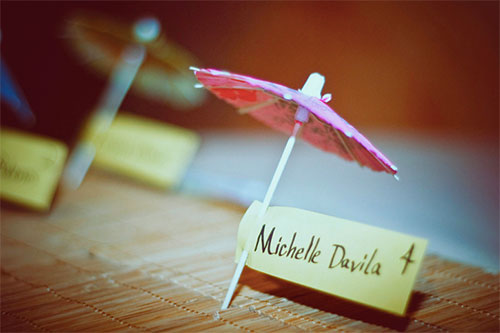 Why not get everyone in the drinking mood right away with these cocktail umbrella place cards?
6. Polynesian Place Settings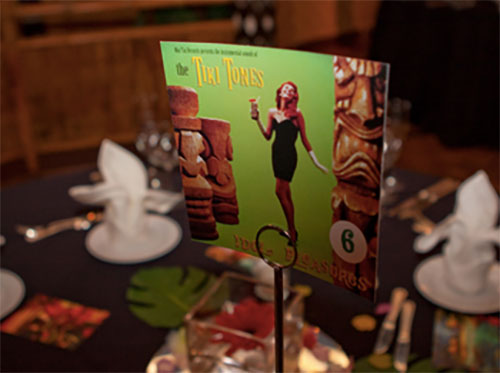 Decorate tables with kitschy memorabilia like old Tiki mugs and retro record sleeves.
7. Tiki-tainment!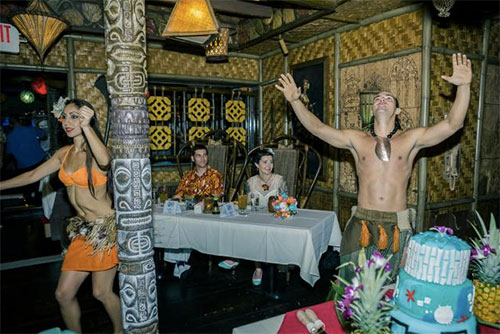 Hire traditional performers for a show your guests will never forget!
8. Tiki Table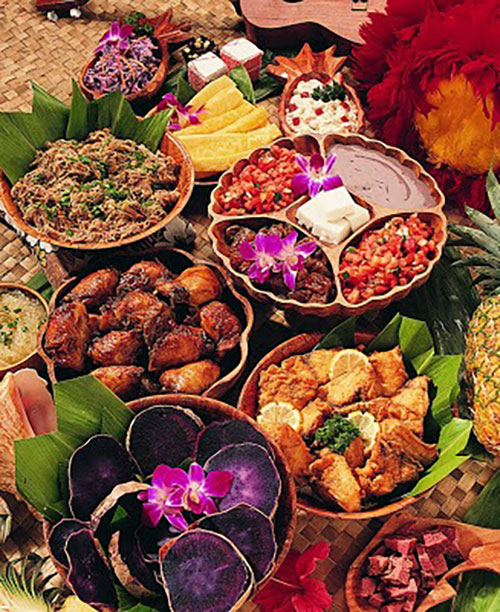 Have a feast fit for a Polynesian king and queen!
9. Carrying the Tiki Torch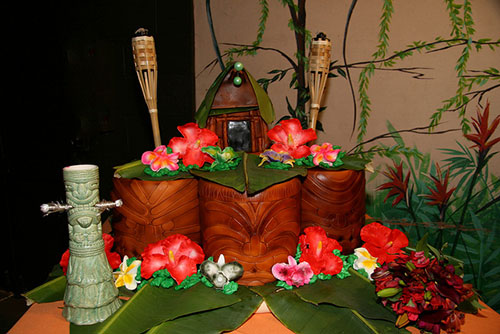 Believe it or not, this Tiki hut replica is actually a WEDDING CAKE.
10. Couple Cocktail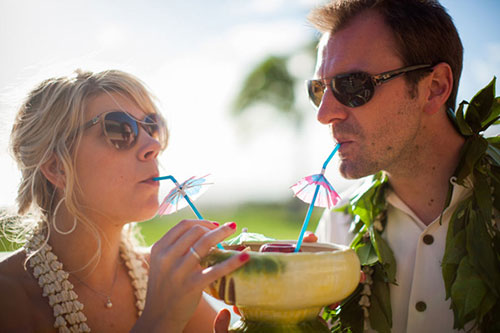 The most important part of Tiki culture are the drinks! Find some recipes to fill your Scorpion Bowl over at the Tanked Tiki, an amazing Tiki lounge in Hollywood, CA.
11. Tiki Tunes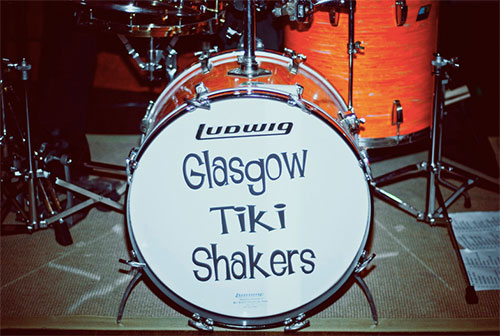 Book a retro-fabulous Tiki band to help everyone hula the night away!
12. Shot Glass Romance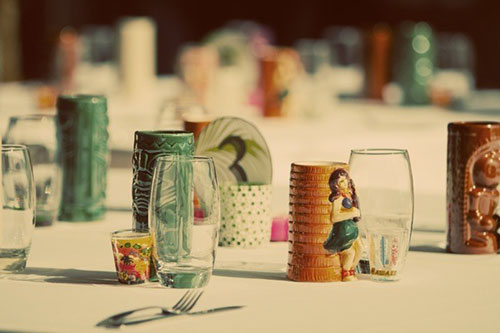 Give out tiny Tiki shot glasses for a favor your guests will be happy to add to their collection.
13. I Do! (Even When You're Wearing That Shirt)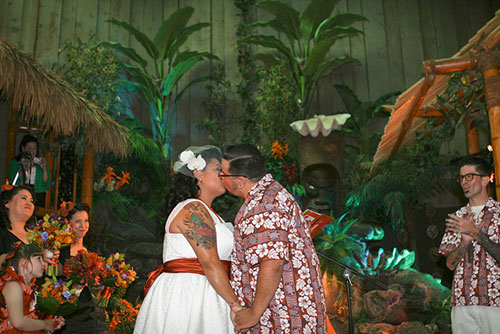 When you're celebrating your Tiki wedding, don't forget that everyone (even the groom) should be sporting their father's awful Hawaiian shirt.
Now that you're all caught up on retro Polynesian style, pour yourself a few cocktails and start planning your Tiki wedding!
Photo Attributions: