St. Patrick's Day makes us think of the Emerald Isle… and other greenery like leprechauns, Shamrock Shakes, the start of spring, and the money you'll be spending on your wedding day.
In honor of the day where everyone's Irish, we've found 11 wedding gowns that turned their brides into Goddesses in Green:
1. Gatsby Green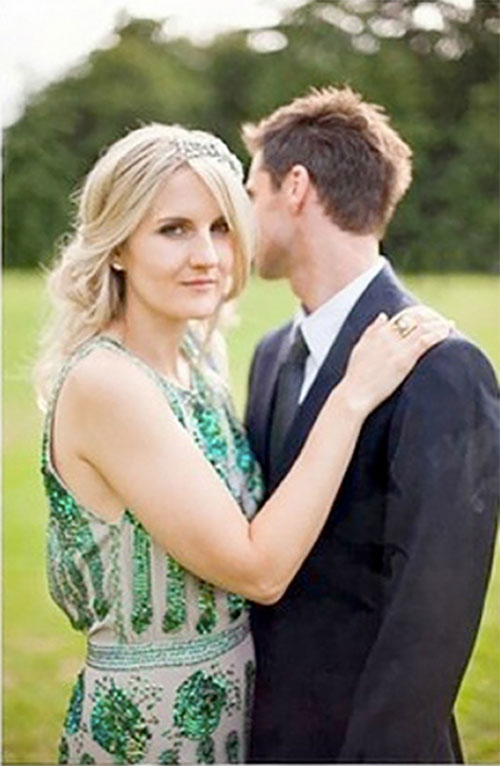 Image Source: Becci Ames
This bride's got her groom right under her (green) thumb.
2. Elegant in Emerald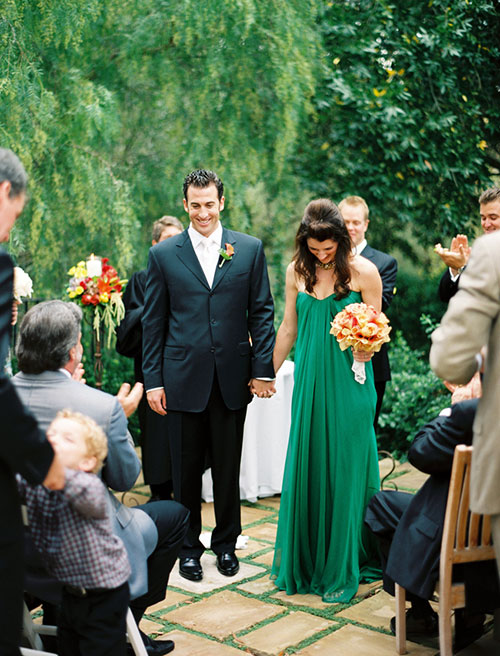 Image Source: Inspired by This
Who knew that Grecian Goddesses look best in green?
3. Forest Green Fabulousness
Image Source: Rock 'n Roll Bride
This vintage vixen is looking glam in her green dress and shoes. A little veil and elbow-length gloves gives her a dose of wedding white.
4. Minty Marriage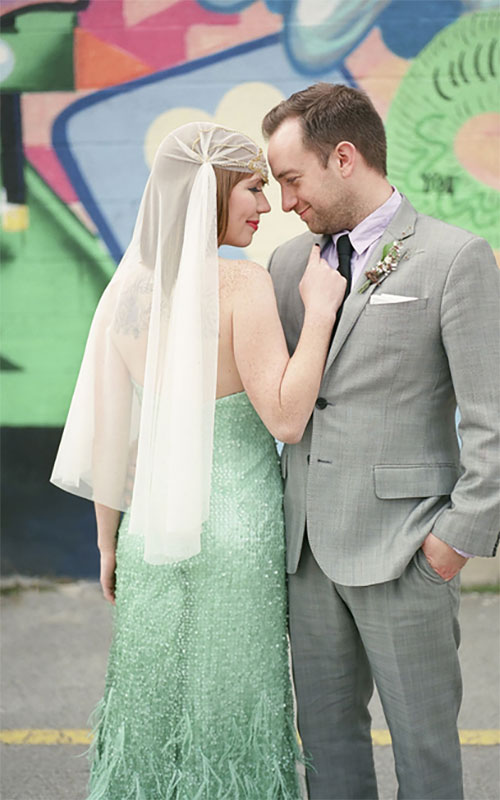 Image Source: Rock 'n Roll Bride
This traditional white veil turns this gown from prom day pretty to wedding day wow.
5. Shamrock Shaked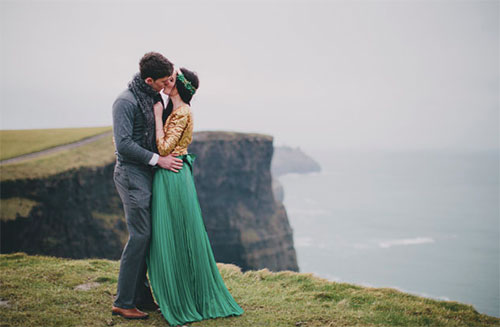 Image Source: Green Wedding Shoes
If you're going for a romantic rendezvous on the top of an Irish cliff, how can you wear anything BUT this glamorous green?
6. Very Viridian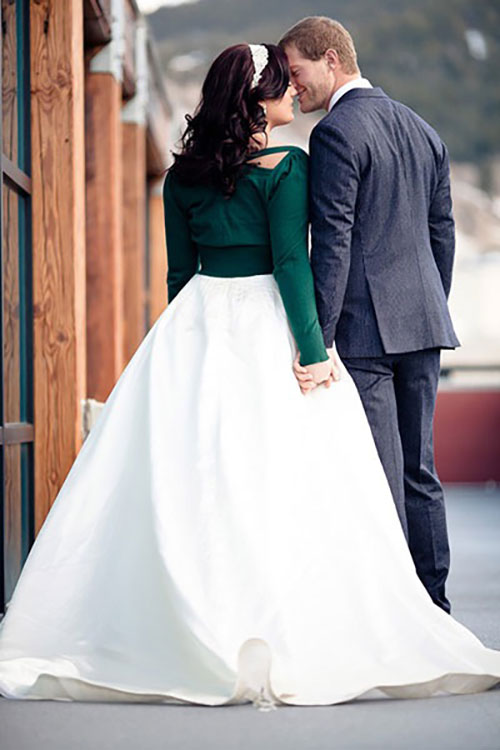 Image Source: Bridalguide
A green sweater worn over your wedding dress can keep you stylish and warm until your honey can do the job him or herself!
7. Happy in Hunter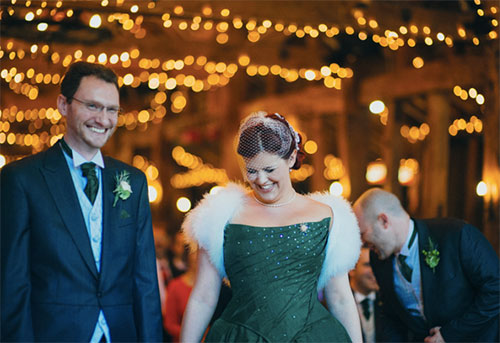 Image Source: Offbeat Bride
Green isn't just for St. Patrick's Day—when worn for a Christmas wedding, it'll keep you festive without looking like Mrs. Claus!
8. Sprightly and Springy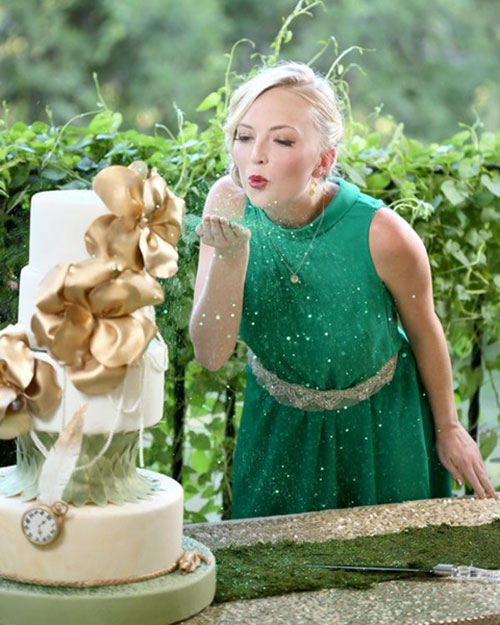 Image Source: Happy Wedd
This bride looks like a forest sprite as she blows glitter onto her springtime wedding cake. Definitely consider this look if you're marrying a leprechaun or other woodland spirit.
9. Pigmented Petticoats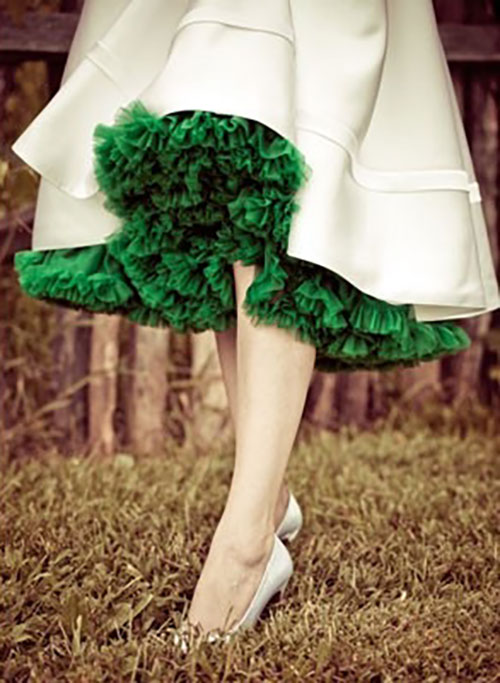 Image Source: Inspired Bride
Afraid to commit to this grassy hue from head to toe? Colored petticoats add a fun and subtle pop of color for any weirdo that might be trying to take a peep up your dress.
10. Sea Foam Sweetness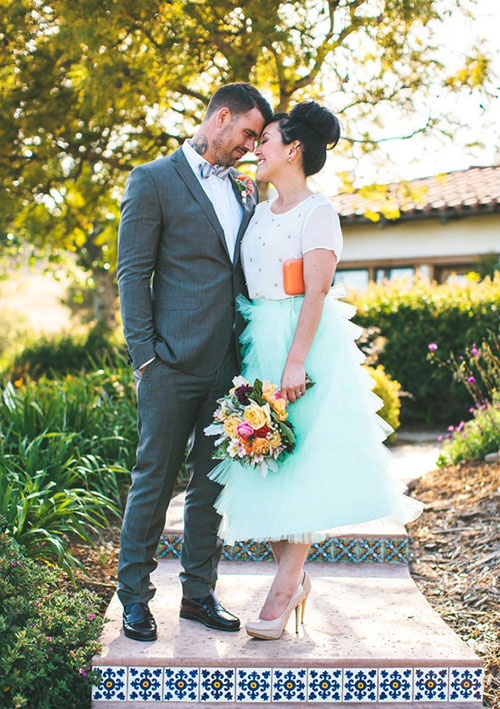 Image Source: Inspired Bride
Pair a tulle skirt with a white t-shirt to create a bridal look that's casual and cool. Just carry a bouquet so we know that you're the one that's getting married.
11. Lovely in Lime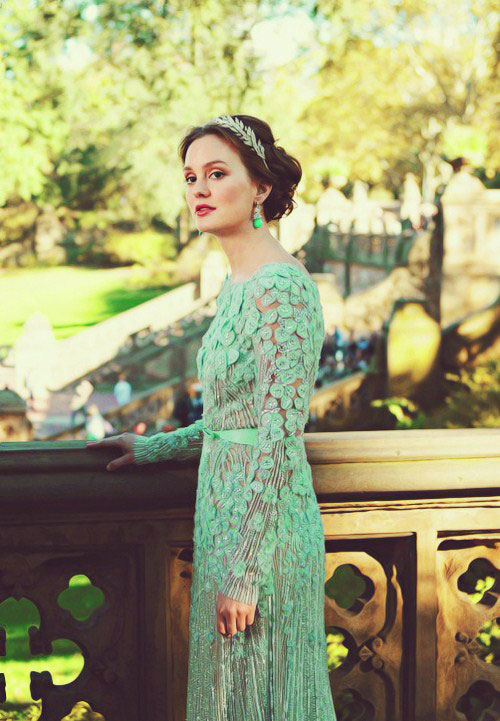 Image Source: Breakfast at Yurman's
In this lime green dress, this bride is a Queen of Vintage that looks like she's ready to get married at Downton Abbey.
Even if you aren't getting married in March, green is a gorgeous bridal statement for any month of the year! Remember, white dresses weren't even a "thing" until the 1920s, so rock the color that you love the best!